Before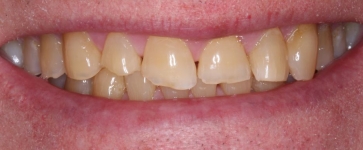 After
Our patient has an extremely strong bite force with a clenching habit resulting in fractures and cracks in all of his teeth.  Dr. Chris gave him a new smile by crowning all of his teeth for whiter appearing, stronger teeth to last a life-time.
Before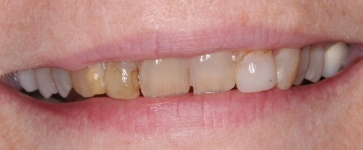 After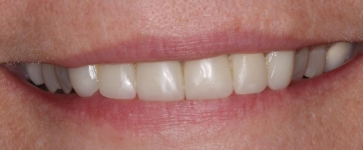 After years of replacing large white fillings that were getting too big to keep replacing, our patient decided she was ready for a smile makeover!  Dr. Chris created this beautiful smile using all porcelain crowns on her front six teeth to improve color, strength and a straighter appearance.
Before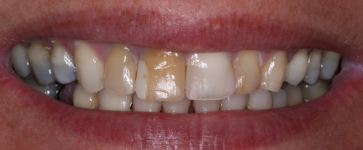 After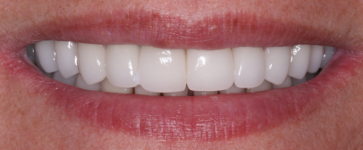 Our patient had numerous large failing restorations and not enough natural tooth remaining  to support more fillings.  She decided a smile makeover is exactly what she deserved! Dr. Campbell crowned her teeth with full porcelain (no metal substructure) giving her the smile of her dreams!
Before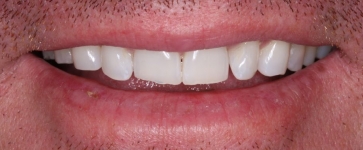 After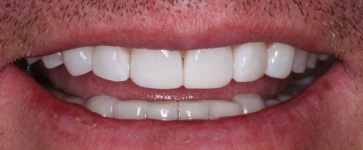 This patient had worn off his teeth due to a malaligned bite and years of grinding. To restore his smile, Dr. Campbell recommended orthodontics to correct the bite, she then bonded with a direct resin material to his anterior teeth to create a beautiful natural-looking smile. This bonding was done in a single appointment.
Before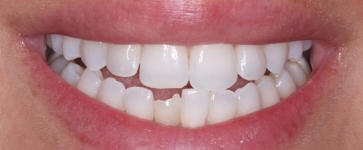 After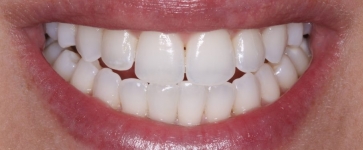 Our patient had a broken lower tooth that was discolored due to root canal therapy. Dr. Campbell restored the darkened tooth with an all-porcelain crown that is perfectly color-matched using good photography and communication with our fabulous lab (Root Lab in Kansas City).
Before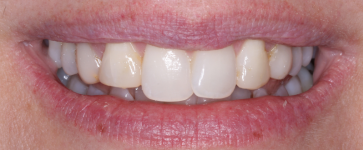 After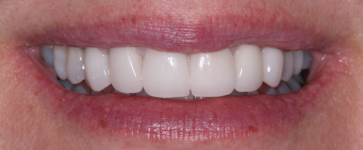 Our patient was congenitally missing lateral incisors, so her cuspids had migrated to the incisor space. Without orthodontics, Dr. Campbell was able to restore all front six teeth with porcelain crowns to create the appropriate shape and size as well as correct the overlapping central incisors. 
Before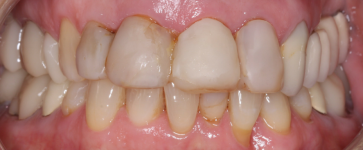 After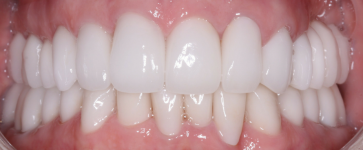 This patient's previous dentist had been "patching" her teeth with fillings too many times, resulting in an embarrassing smile. Dr. Campbell placed all-porcelain restorations giving her a dazzling smile but also creating healthier gums because the rough patched restorations were gone.  Periodontal disease is much easier to manage when hygiene is easier to maintain.
Before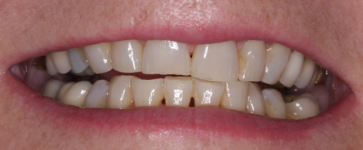 After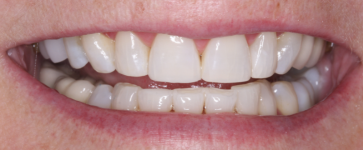 After at-home whitening, Dr. Campbell bonded the patient's shorter teeth using direct resin placement in one appointment. The patient is wearing an EMA snore-guard appliance which will also prevent her from grinding these shorter teeth at night.  
Before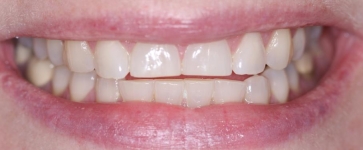 After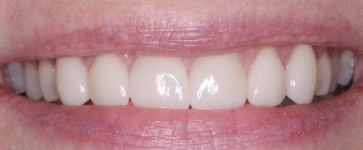 Grinding habits can destroy tooth structure even while sleeping. Dr. Campbell restored the front six teeth that were short and flat by lengthening them with porcelain veneers to bring back the patient's proper tooth shape. She wears a night guard now to prevent her nocturnal grinding from shortening the porcelain.
Before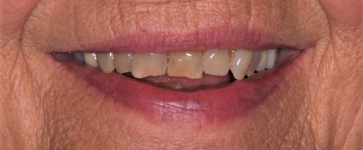 After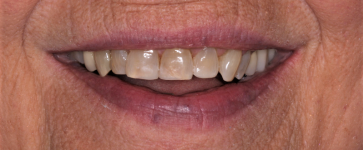 This patient had worn her teeth unevenly, in just one appointment, Dr. Campbell bonded her teeth with direct resin to give this lady a much more pleasing smile. 
Before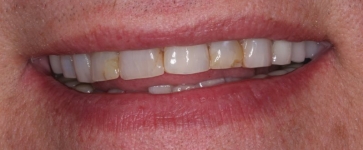 After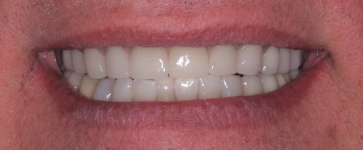 This patient had large fillings that were chipping and yellowing over time. He did not have enough natural tooth remaining to support new fillings, so all-porcelain crowns were placed on the upper eight teeth resulting in a smile he can be proud of!
Before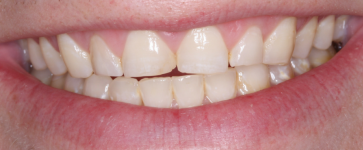 After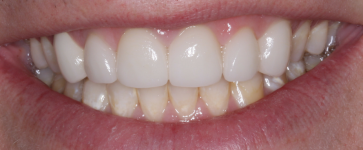 After years of grinding created a less than desirable smile, our patient was ready for a makeover! Dr. Campbell placed porcelain veneers on the four incisors and full porcelain crowns on the cuspids to restore his smile.
Before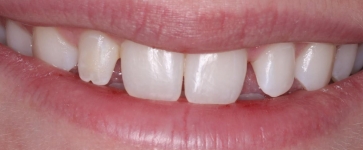 After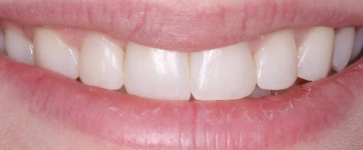 This adolescent patient had narrow shaped teeth which resulted in too much space between the front teeth.  Dr. Campbell used direct in-office bonding, completed in one appointment, giving this young lady a beautiful smile!  
Before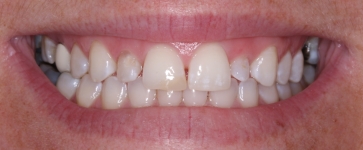 After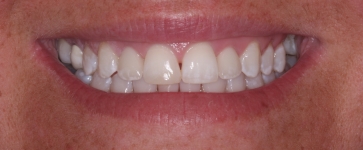 Our patient was thrilled to have her congenitally small laterals restored.  Dr. Chris loves to help create smiles you can be proud to show off!